09 March 2022
#ScotAppWeek22 Blog: Stephen Finlayson, Penumbra Mental Health Head of Innovation and Improvement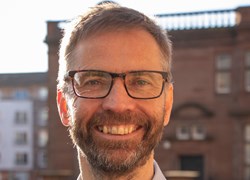 A partnership between SDS and Penumbra Mental Health produced support materials to help employers, providers and their apprentices.
Stephen Finlayson looks at why changes in ways of working and starting a new job are reasons to reinforce positive mental wellbeing in work-based learning.The Covid-19 pandemic has focused a lot of attention on mental health, not least the way that work generally, and the changes brought about in working practices by the pandemic can impact our mental health both in positive and negative ways.
In Scottish Apprenticeship Week, it is good to reflect on why ensuring workplaces are focused on the mental wellbeing of apprentices is more important than ever.
Mental health resources
Last year, Penumbra Mental Health were delighted to support Skills Development Scotland to create a range of resources to support apprentices themselves, and employers and training providers who support them, to really think about what good mental health, and good support for mental health looks like. These resources have now been accessed hundreds of times and we hope they are contributing to a positive mental health culture within the apprenticeship world.
For many apprentices, work can be even more pressured combining the challenges of learning a new role and skills at work combined with the educational side of being an apprentice.
Apprenticeships also often come at points in life of transition and new direction – which can be exciting and also daunting and lonely. Adding in the complex and often isolated working conditions of many workplaces of the last two years only adds to the vital importance of pro-active support for apprentices.
Most employers care about the mental wellbeing of their staff and also recognise that the business suffers when it is not well supported.
Stephen Finlayson
Head of Innovation and Improvement, Penumbra Mental Health
Good for business
We know that many people can find it tough to talk to employers about difficulties with mental health. In addition to providing key knowledge about mental health issues the resources also support people to feel confident to open up and start a conversation at work when mental health is becoming a difficulty.
It is also important that employers have access to clear information about supporting apprentices' mental health. There has been a real change in attitudes among employers over recent years and supporting mental health at work is now widely seen as a fundamental part of good organisational culture.
Our resources provide clear guidance for supporting organisational cultures and practices that both promote good mental health pro-actively and create the conditions where apprentices can feel confident to ask for help when times are tough. The resources provide guidance to support managers to have conversations that are compassionate, supportive and clear.
All of this is simply the right thing to do – but it's also good business with new research from the Mental Health Foundation this month identifying the cost to the Scottish economy from poor mental health being at least £8.8 billion annually.
Most employers care about the mental wellbeing of their staff and also recognise that the business suffers when it is not well supported – we hope our resources contribute to developing these positive cultures and practices even further.
More information
Access mental health resources for apprentice employers, learning providers and apprentices
apprenticeships.scot
More information
Penumbra Mental Health is a pioneering charity supporting people on their journey to better mental health. The power of lived experience enables us to provide pioneering services that transform lives. For more about our work, visit our website by clicking the link below
Penumbra Mental Health