Chef apprentice Shaun serves up more sales for employer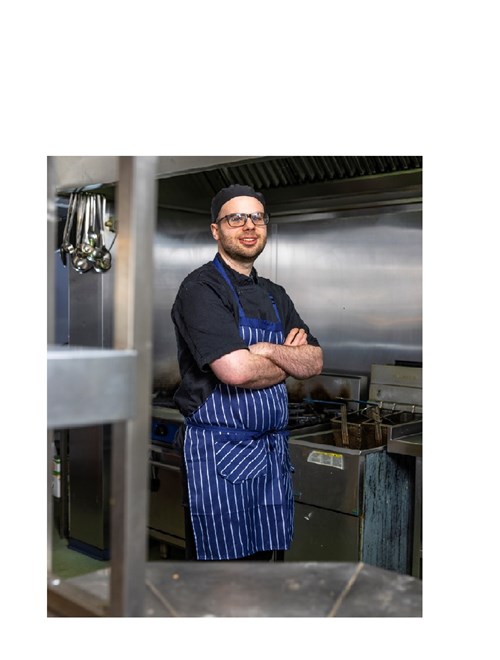 An apprenticeship has helped a Fife chef increase his confidence and boosted the bottom line for his employer.
Overcoming barriers 
Shaun, 28, from Leven, began his SCQF Level 5 Modern Apprenticeship in Professional Cookery at Base Restaurant in September 2020.  
Encouraged by the support he has received from the restaurant's owner Ewan Brown - himself a former apprentice - and Michelle Batt at learning provider MGT Training, he has overcome the challenges posed by dyslexia, which affected his school education.  
Shaun said: "During my apprenticeship I've gained confidence and experience of working independently, while my rapport has grown with my colleagues, and I feel part of the team. Everyone has been patient and understanding and given me time to learn. 
"Taking a Modern Apprenticeship has been great to get a qualification and build skills, while making money at the same time." 
Modern Apprenticeships are jobs open to anyone aged 16 and over who wants to work, learn and earn. Apprentices spend most of their time learning in the workplace while being supported by a local college or specialist training provider to gain an industry recognised qualification. 
Making a difference 
Shaun first heard about the opportunity to become an apprentice from Michelle when he was working at Base.  
During his apprenticeship he has become an integral part of the team, helping to make a difference despite the lockdowns that hit the hospitality sector during the pandemic.
He used his initiative to help increase sales by creating desserts and exploring what would sell well on the restaurant's takeaway menu during lockdown.
His initiative increased monthly restaurant sales by £4,000 and helped motivate the entire team. Shaun supported the business during difficult times and reduced stock wastage.  
Getting a qualification, building skills and being able to make money at the same time is great. I've now got a good qualification and skills that will be useful in future.
Shaun
Professional Cookery Modern Apprentice
Modern Apprenticeship inspiring confidence for future
Such are Shaun's achievements that he was named as a finalist at this year's Scottish Apprenticeship Awards, picking up a nomination for Modern Apprentice of the Year Level 5 category sponsored by Balfour Beatty. ES Catering, which runs Base, won the SME Employer of the Year - Promoting Diversity category.
As well as completing his chef qualification in Professional Cookery in October 2021 when he finished his Modern Apprenticeship and an art course, Shaun has volunteered at the local high school to help pupils express themselves creatively.
He reduced his hours at Base to achieve his new dream of teaching catering and art – boosted by the skills and confidence gained during his apprenticeship – and will start his Post Graduate Diploma in Education at university this year.
Shaun said: "Getting a qualification, building skills and being able to make money at the same time is great. I've now got a good qualification and skills that will be useful in future." 
Michelle Batt said: "As Shaun is dyslexic, we helped him all the way through his apprenticeship. For example, we scribed for him or worked with him to produce videos and recordings in place of written work, as well as giving him access to technology. 
"Shaun has found his voice during the apprenticeship, becoming much more confident and self-assured. He can now multi-task and participate more and that's improved his productivity." 
Base employs around 25 people. It currently has six Modern Apprentices and 19 young people have already completed an apprenticeship with the business. 
Restaurant owner Ewan said: "Shaun has been fantastic. He has come on leaps and bounds since he started his apprenticeship in terms of his confidence and the work he is doing. The apprenticeship has helped him progress and given him faith in what he is doing." 
He added: "The apprenticeship I completed when I first started working helped me a lot. When it came to me running my own place, I wanted to be able to offer that option to my staff. It encourages people to stay with the business when they see they have the opportunity to learn, that there's a career for them and that they are valued. It keeps up morale and is a huge benefit to the business as well as our staff."  
Scottish Apprenticeship Awards
To view the full list of Scottish Apprenticeship Awards winners, visit www.apprenticeships.scot