Apprentices become central pillar of Scottish Crannog Centre revival
Providing opportunities to apprentices from a variety of backgrounds has helped the Scottish Crannog Centre begin to build a future workforce in tune with its diverse audience.
Scotland's open-air museum on Loch Tay, Perthshire, the Centre intended to start offering apprenticeships in the summer of 2021.
Thanks to the impact of five Modern Apprentices and one Foundation Apprentice since that decision was made, the Scottish Crannog Centre was a proud finalist in the SME Employer of the Year – Promoting Diversity category of this year's Scottish Apprenticeship Awards.
Scottish Crannog Centre Community Archaeologist Rachel Brackshall said: "Key to The Scottish Crannog Centre is the belief that only by having a diverse Crannog Community can we best engage with diverse audience engagement.
"A long-term apprenticeship programme is vital as part of our commitment to building a better place to visit, be and work.
"This area is the most access deprived area in Scotland, so our apprenticeship programme actively works to retain young talent, investing in the future workforce of the area and beyond."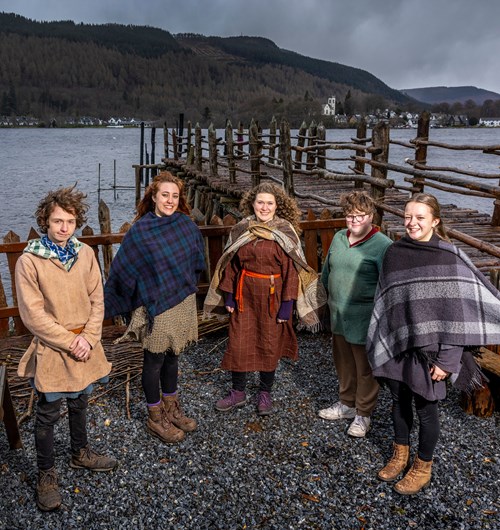 Our five Modern Apprentices – Will, Izzie, Georgia, Daisy and Toby – have been on site collectively every day since August 2020, delivering interpretation, tours and collectively engaging with all 15,000 visitors. This forms part of their SVQ 2 Customer Service qualification at SCQF level 5.
Rachel Brackshall
Community Archaeologist, Scottish Crannog Centre
For the Centre, it's about making small adjustments to provide individual support for apprentices.
Rachel said: "The apprentices come from a variety of backgrounds; each bring their own strengths and skills which are celebrated - it's not about treating everybody differently but considering everyone has different needs.
"For example, one apprentice has 4 per cent vision, so we add small lumps to maps so that he can find a point and talk about it in front of a group. Other apprentices may struggle when in a closed, sit-down environment and much prefer speaking to colleagues and visitors and presenting to them on a more natural, relaxed environment so, again, that is embraced.
"Five of our staff members have trained as qualified assessors, and two are continuing into internal verifier positions this year. Working with apprentices and running apprenticeships has become a central pillar of what we do. Everyone is involved, it's an all-people approach."
While the challenges presented by Covid were significant enough, these were added to when a fire at the Centre in June 2021 destroyed the reconstructed Crannog Roundhouse, which will require a complete rebuild. However, even during that most troubling time, the collective spirit of the Centre's five apprentices was to prove uplifting.
Rachel explained: "It was tough, but it has brought the team closer together. Just two days after the fire, there were five of us in the office, all sorts of things were happening, it was all very stressful. Then the apprentices turned up as a group, with a box of cream cakes and sat together having a cup of tea. They then went out to the walkway of the Crannog and had a little moment together, saying goodbye. The whole team was pulling together at that point and it was very much led by them. It was all unplanned and quite a moving moment, which we have built on as we move into the future now, looking to build a new museum, and support more apprentices in the coming year."
Over 12,000 employers support Scottish Apprenticeships, which are work-based learning opportunities or jobs with industry-recognised qualifications. Designed with employers for employers, Scottish Apprenticeships are demand-led and responsive to regional skills needs.
Scottish Apprenticeship Week
The winner of the SME Employer of the Year – Promoting Diversity category was revealed at the Scottish Apprenticeship Awards, which is organised by Skills Development Scotland and took take place during Scottish Apprenticeship Week in March. Find out more about the event by visiting www.apprenticeships.scot/awards