08 June 2022
SDS publishes Annual Review 2021/22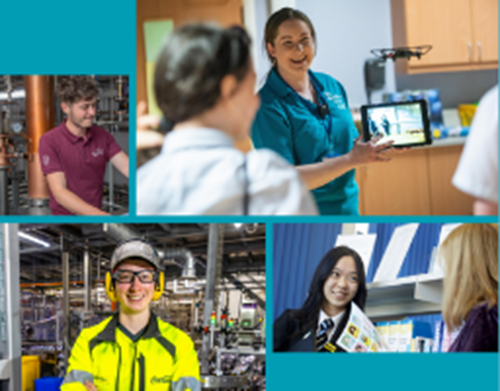 An ambitious redesign of Scotland's careers system and strong growth in apprenticeships are among the highlights of SDS's Annual Review. 
Looking back over 2021-22, the Review details how SDS is contributing towards Scotland's economic recovery and the creation of a more prosperous, greener, fairer society. 
Achievements include publication of the Career Review, focused on a series of 10 recommendations that build on the success of the current careers service. 
There were also 25,401 Modern Apprenticeship starts, an increase of 36 per cent on the previous year. 
Frank Mitchell, Chair of SDS, said "The past year has continued to be a period of challenge and change for Scotland's people and businesses".
You can read our Annual Review 2021-22 in full. Alternatively, a summary of key achievements can be found below. 
While we continue working at pace to react to the ever-changing environment, I am incredibly proud of our response to the unprecedented challenges that have impacted us all and Scotland's economy. My sincere thanks go to all our SDS colleagues for their commitment and hard work, which continues to deliver exceptional results under challenging conditions.
Frank Mitchell
Chair, SDS
Reflecting on 2021-22 
Goal 1: Enabling Scotland's people 
During 2021/22 our Career, Information, Advice and Guidance (CIAG) services continued to deliver excellent customer service to people across Scotland through schools, our network of Public Access Centres (PACs) and partner premises. Colleagues used remote delivery when necessary to maintain service delivery to our customers and returned to in-person delivery when it was safe to do so. 
The Career Review was published with 10 recommendations, based on strong evidence and co-designed with over 80 young people in Scotland, to build on the success of existing services, presenting an ambitious redesign of the career system. 
We also launched Classroom Clash, innovative and interactive games to develop Career Management Skills in primary schools which aims to inspire young people and help them understand future careers and opportunities. 
Over the past year, we continued to rebuild Modern Apprenticeship delivery towards pre-pandemic levels, with a significant uptake of opportunities compared to the previous year.  
We launched our Foundation Apprenticeship 'Big Future' campaign to promote FAs as a subject choice to young people and their parents, carers and teachers. 
In 2021/22 25,401 people started a Modern Apprenticeship, 1,147 started a Graduate Apprenticeship and 4,199 pupils started Foundation Apprenticeships at SCQF Levels 4-6. 
Protecting existing apprentices was a priority for SDS during challenging times for the labour market. 294 redundant GAs and MAs were offered SDS support to access alternative learning and/or employment, with 155 continuing their apprenticeship with a different employer. 
Other programmes, such as the National Transition Training Fund (NTTF) supported more than 5,000 people allowing them to develop new and existing skills and achieve work-related qualifications. 501 people newly accessed help to return to the workforce after a career break of at least six months through the Women Returners Programme. 
Goal 2: Mobilising Scotland's businesses
Our role when working with Scottish businesses is to support and encourage them to grow and prosper through investment in skills. 
Across Scotland we provided targeted support to employers, helping them to take a strategic approach to workforce planning, build resilience to disruption, and create the conditions for long-term sustainability. This included the continued promotion of, and support to uptake apprenticeships as a means of attracting and developing talent. In 2021/22, this work included the launch of the Rural Employers' Toolkit, which offers guidance on training, apprenticeships and placement support for rural businesses. 
Through Team Scotland activities,1,570 jobs were created, and an additional 1,113 jobs safeguarded during 2021/22.  
Goal 3: Influencing the learning and skills system
With the need for robust labour market evidence more important than ever, we delivered 137 evidence base products, including a new monthly Labour Market Insights publication.
We engaged with partners and stakeholders on a regional and sectoral basis, sharing our expertise and knowledge of the evidence base to help develop their approach to recovery and renewal. Additional resource was directed at sectors that were most affected by the pandemic. 
We launched the Green Jobs Workforce Academy on My World of Work, as part of the early implementation of the Climate Emergency Skills Action Plan. 
Goal 4: SDS as an organisation 
As an organisation, we were proud to be announced as the winner of the UK EFQM Excellence Award at the annual British Quality Foundation (BQF) Awards in recognition of our 'organisation-wide dedication to excellence'. 
Through 2021-22, ensuring colleague health and wellbeing was a key priority. As part of our 'Your Views' all-staff survey, colleagues gave an average score of 8.6/10 in agreement with the statement 'I would recommend SDS as a place to work'.