24 February 2022
SDS achieves Top 100 Stonewall employer status
Skills Development Scotland (SDS) has received GOLD recognition from Stonewall for employer inclusivity by lesbian, gay, bi and trans equality charity Stonewall. 
For twenty years, the charity has been supporting employers to create welcoming workplaces for lesbian, gay, bi, trans and queer people.
SDS placed 29 in the charity's UK Top 100LGBTQ+ employers. The Top 100 is compiled from submissions to Stonewall's Workplace Equality Index, a benchmark used by employers to assess their achievements and progress on LGBT equality. This year more than 400 submissions were received. 
According to the charity's research, more than a third of LGBTQ+ staff (35 per cent) hide who they are at work, while one in five (18 per cent) have been the target of negative comments because they are LGBTQ+. The Workplace Equality Index provides a strong framework to involve our whole organisation in improving LGBT inclusion, from procurement and operations to communications and policy development.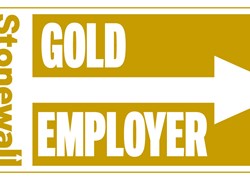 It's fantastic that SDS has gained GOLD for their efforts and commitment to creating an inclusive work environment, and we look forward to seeing and supporting the rest of their inclusion journey.
Liz Ward (she/her)
Director of Programmes at Stonewall
Liz Ward is is Director of Programmes at Stonewall (she/her) and she said:
"We spend so much of our time at work, and our career can be a huge part of how we define ourselves.
"Every single lesbian, gay, bi, trans and queer person should be able to be themself at work.
"From understanding how HR policies, such as parental leave, will affect them, to being reassured that they can speak openly about their lives and partners at the coffee machine, the impact of inclusive workplaces can be life changing."
An SDS spokesperson said:  
"Stonewall is one of many organisations that SDS engages with to help inform our policy on equality, diversity and inclusion.  "Participation in the Stonewall UK Workplace Equality Index helps us assess our ongoing performance and progress on LGBT equality and to benchmark ourselves against other organisations. 
"Working with a range of partners, including as a Stonewall Diversity Champion, helps us in our goal of becoming a fully inclusive organisation. We believe that inclusion brings demonstrable benefits for colleagues, our organisation and for our customers."
Background
SDS has held Stonewall Diversity Champion annual membership since 2015/16. The SDS Equality Mainstreaming Report 2021-2025 provides examples of the work to promote and increase equality of opportunity for people in Scotland who face disadvantage or discrimination because of their protected characteristics or lived experience.