Record partnerships show Dundee and Angus College's care for apprentices
Achieving record numbers of employer partnerships during the toughest circumstances enabled the Care Team at Dundee and Angus College to quadruple the number of apprenticeships it offered to provide jobs and fill skills gaps.
Dundee and Angus College has a long and successful history supporting apprenticeships with some 380 Foundation Apprentices and 346 Modern Apprentices, across a vast range of subjects, on its current roster.
Breaking records
With both young people and the care sector hard hit by the pandemic, the Care Team at the College threw all their positive energies into working to support both apprentices and employers – resulting in the record number of partnerships.
Dundee and Angus College's Vice Principal People and Performance in the Senior Leadership Team Steven Taylor said: "The Care team prides itself on employer partnerships and 2021 saw more businesses connect than ever before – at the last count it has engaged with 40 employers through Modern Apprenticeships. It's an incredible number really and shows the efforts our staff made to connect and reconnect throughout the pandemic.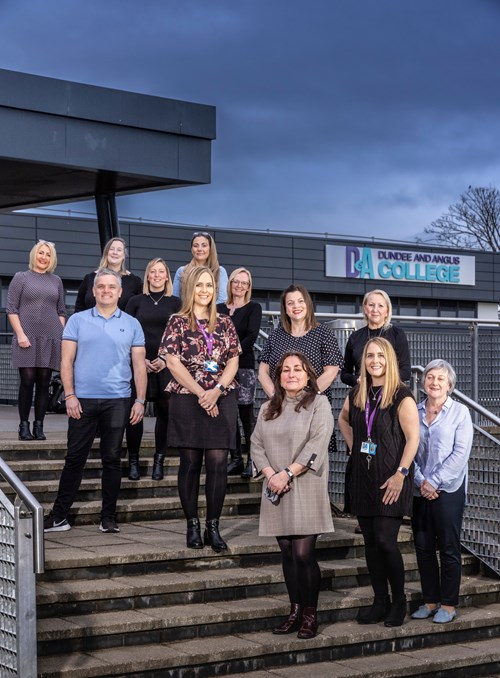 Creating opportunities
"This highly focused employer engagement activity has built increased capacity in the regional social services and health workforces and provided clear and supported career pathways from school, unemployment, and declining industries into sustainable employment.
"It has placed Dundee and Angus College and its partnership of employers in an excellent position to respond to the national developments that will be implemented in the Scottish health and social care sector over the next few years."
Being creative in the use of technology and ensuring as much one-to-one support as possible could be provided to apprentices were also factors in the College maintaining high engagement rates.
Expansion of Modern Apprenticeships
Steven continued: "One outstanding success has been the expansion of Modern Apprenticeships. The pandemic restrictions meant assessors were unable to observe candidates in the workplace in the normal way, so the team got creative in the use of new approaches to ensure the employees were meeting the required standards.
"To improve communication, it set up WhatsApp groups for peer support. These involved SVQ learners, training managers in a range of care settings and college staff. Aware that many care practitioners were struggling, SVQ assessors expanded one-to-one online pastoral care and gave a listening ear to learners and employers alike.
"By expanding and strengthening its employer connections throughout the health and social care sector Dundee and Angus College provided support where and when it was needed most. It quadrupled Modern Apprenticeship opportunities and created innovative learning journeys and employment pipelines that have offset redundancies and addressed significant areas of skills shortage."
Over 12,000 employers support Scottish Apprenticeships, which are work-based learning opportunities or jobs with industry-recognised qualifications. Designed with employers for employers, Scottish Apprenticeships are demand-led and responsive to regional skills needs.
Hybrid approach to learning
The achievements and ingenuity of the college's Care Team has led the learning provider to be recognised in the Scottish Apprenticeship Awards as winners of the Innovation in Learning Provision category sponsored by the Scottish Training Federation.
Steven said: "The hybrid approach, combining both in-person and virtual engagement, is the way forward for delivery of apprenticeship learning and provides more flexibility for everyone involved in the process.
"Our apprenticeships are providing a pipeline of new talent to support the growth of businesses in the region, while offering young talent innovative pathways, learning experiences and a supported route into sustainable employment."
Scottish Apprenticeship Awards
Read the full list of Scottish Apprenticeship Awards winners here.