Instructor Lindsay builds new lives for apprentices
Lindsay Kemp of Brechin Roofing firm Forster Group goes above and beyond to fulfil his passion of helping Apprentices become qualified and have a successful career in the Roofing sector.
Forster specialises in new build roofing and covers one in five of all new homes in Scotland.
Under his wing
Lindsay has been the dedicated Forster Skills Academy Trainer since its conception in April 2015, which to date has enrolled 50 Modern Roofing Apprentices. He takes an active involvement in the Apprentices education, development and well-being from day one of employment.
Many of the school leavers have travelled away from home for the first time for their off-site residential training, which is independence they have not experienced before. Lindsay chooses to stay up in Brechin alongside the Apprentices so he is always on hand to help and support them, such as organising travel, taking them to dentist appointments or simple just to talk to if they are home sick.
Lindsay said: "I've been a Roofer for more than 30 years and I've worked with Forster since 2003, so I am well experienced in Roofing and I love passing my knowledge on to Apprentices and watching them grow.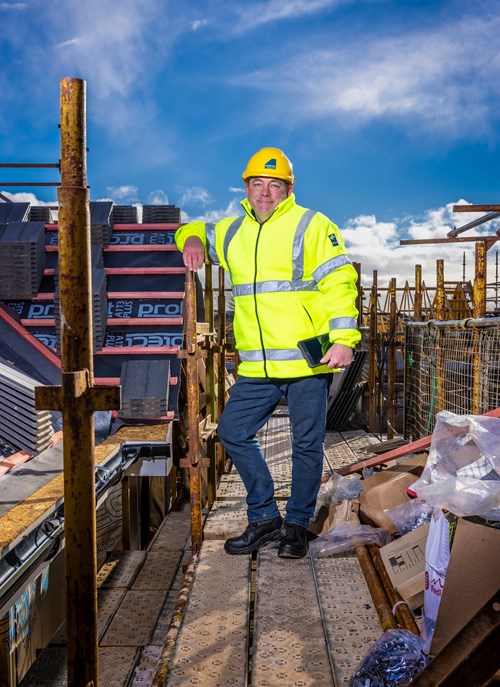 "We set-up our own Forster Skills Academy focusing on Roofing within new build to teach Apprentices skills that are important in the roofing industry and keep them up-to-date with current standards. Our apprentices qualify with a SVQ in Roofing at SCQF Level 5 specifically designed for new build roofing."
Lindsay said: "It's good to see the Apprentices come through our apprenticeship programme, and it's a real inspiration to see them progress into qualified Roofers."
Skills for life
As well as having industry and training qualifications, Lindsay has a range of other skills he brings to his role as Trainer, including being Mental Health First Aid, Emergency First Aid, Site Safety Supervisor Scheme and Safeguarding.
Forster Group has about 100 employees and has had more than 50 Modern Apprentices come through its programme. As well as offering Roofing Apprenticeships, there are also Warehouse, Purchasing, Finance, Administration and Surveying Apprentices.
Lindsay said: "Being a good Apprentice Instructor is about being there to support the Apprentices and being enthusiastic. It's about recognising the different skills they have and enhancing them.
"At the end of each week on site I sit down for a one-to-one with an Apprentice before they go home and discuss how they feel and what they should be practising. I keep communicating with them when they finish at the college and visit them on-site to see how they are getting on."
Holistic support
Forster Group HSEQ Administrator Lynsey Gilbert said: "Our Apprentice programme isn't just about work, we aim to get the Apprentices ready for the outside world. We've had the police in to talk about safe driving, cooking and nutrition classes, computer IT and personal finances.
"We've put a group through a two-day Mental Health First Aid course. We felt that would benefit the Apprentices as well as the Roofing industry. There are a lot of mental health problems in the sector and we're looking at how to combat this issue.
Lynsey added: "Many of the Apprentices are from urban areas, so we open up new fun experiences to them in the Brechin rural area such as hill walking, farm visits to learn about agriculture, skiing and water sports at country parks.
Apprentices deliver lots of benefits for the business. Lynsey explained: "We're bringing in Apprentices from all over Scotland and training them to our own Forster Standard, this goes beyond industry specifications for an enhanced quality of roof. There is such a skills shortage of Roofers, along with an ageing workforce, which our Forster Skills Academy is helping overcome this by formally qualifying the next generation of Roofers."
Lindsay's work to support Forster's young talent has been recognised nationally with the Scottish Apprenticeship Awards' Apprentice Instructor of the Year title.
Scottish Apprenticeship Awards
View the full list of Scottish Apprenticeship Award winners here.