Innovation helps Modern Apprentices retain self esteem
Construction industry learning provider Esteem Training made the most of technology during the pandemic to ensure Modern Apprentices were successful.
The firm also started a partnership with the Scottish Refugee Council to attract assessors from more diverse backgrounds.
Glasgow-based small business Esteem, which trains around 300 construction Modern Apprentices a year, embraced new technologies to ensure the experience enjoyed by its apprentices was undiminished during lockdown – and the changes are here to stay.
Adapted to challenges
Known for face-to-face developmental apprenticeship workshops, the 20-strong company's ability to adapt, such as introducing Meet the Assessor videos and creating a new candidate support coordinator role, has led to recognition as a finalist in the Innovation in Learning Provision category at this year's Scottish Apprenticeship Awards.
Esteem Training Operations Director Martina Höfner said: "We developed a series of candidate support videos, consisting of introduction and module videos for each of our Modern Apprenticeship programmes.
"The videos talk candidates through and give them guidance on each of the five modules for each programme we have. Our Programme Delivery Manager and Assessor David Currie even flew to the isle of Tiree to film the videos, working around the restrictions at the time.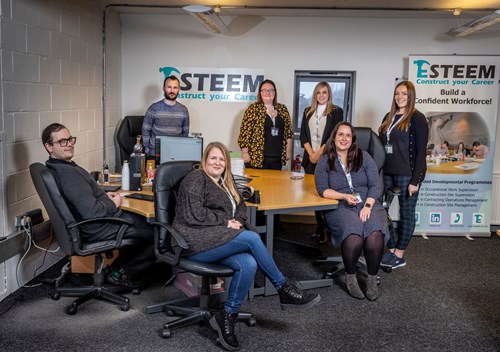 Developed support
"We have also filmed six meet the assessor videos - one for each of our assessors. They are short introductory videos where the assessors introduce themselves and their backgrounds and are sent to apprentices before their welcome call with the assessor - so that the apprentices feel comfortable. It really helps them get to know the people behind who they will be talking to.
"In addition, we created a new job role - Candidate Support Coordinator – whereby Karen MacArthur is responsible for ensuring a positive apprentice journey. In particular, if an apprentice is behind programme, or has additional support needs, Karen is on the end of the phone or available to go out to them to assist, support and answer any questions."
Forged partnerships to improve diversity
Recognising an opportunity to attract a talented and diverse team, Esteem Training also began a new partnership with the Scottish Refugee Council.
Martina added: "One of our biggest innovations was entering into our partnership with the Scottish Refugee Council to help extend our vacancies to refugees in Scotland.
"This has helped us attract assessors with a significant level of experience, as well as resulting in a much more diverse workforce with 15 per cent ethic minority representation."
Esteem's achievements have led the learning provider to be recognised in the Scottish Apprenticeship Awards, as a finalist in the Innovation in Learning Provision category sponsored by the Scottish Training Federation.
Over 12,000 employers support Scottish Apprenticeships, which are work-based learning opportunities or jobs with industry-recognised qualifications. Designed with employers for employers, Scottish Apprenticeships are demand-led and responsive to regional skills needs.
Martina said: "We see the benefits of apprenticeships to both individuals and businesses every day – giving people the opportunity to build the skills and experience which will ultimately help the construction industry address gaps, grow its workforce and thrive."
Scottish Apprenticeship Awards
The winner of the Innovation in Learning Provision category sponsored by the Scottish Training Federation will be revealed at the Scottish Apprenticeship Awards, which is organised by Skills Development Scotland and set to take place during Scottish Apprenticeship Week from 7-11 March. Find out more about the award finalists and the event by visiting apprenticeships.scot