Emily counts apprenticeships as key to accountancy career
The apprenticeship path has helped Emily Greig pursue her dream career of accountancy while saving to buy for her first home.
The 20-year-old from Alloa heard about Modern Apprenticeships while she was in sixth year at Alloa Academy. She opted for Administration and Business at SCQF Level 5, working in the invoicing team with DD Group, a supplier for the dental sector in Stirling, to lay the groundwork for moving into accountancy.
Stepping stone
Her dedication and hard work saw her complete the apprenticeship with DD Group earlier than expected and she is now doing a higher level Modern Apprenticeship in Accounting with the University of Stirling.
Emily said: "I chose the Level 5 Modern Apprenticeship with DD Group because it gave me an amazing opportunity to have a kick start in life in being able to have hands on office experience and achieving a qualification at the same time.
"The Modern Apprenticeship really helped develop my confidence greatly, for example through talking to colleagues and customers and taking on more advanced work to support my manager.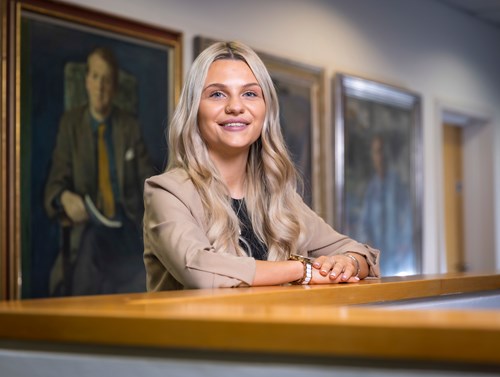 Supporting other apprentices
"I developed my leadership skills through my Modern Apprenticeship. There was another young apprentice who joined the firm straight from school. My employer gave me the opportunity to mentor her. I built a good relationship with her and showed my employer I was capable of taking on more responsibility."
She added: "My Modern Apprenticeship really motivated me. The apprenticeship experience has been really important and gave me that first step to my dream career in accountancy."
Modern Apprenticeships are jobs open to anyone aged 16 and over who want to work, learn and earn. Apprentices spend most of their time learning in the workplace while being supported by a local college or specialist training provider to gain an industry recognised qualification.
Best start for future
Emily wouldn't hesitate to recommend apprenticeships to others. The talented apprentices has also been named as a finalist in the Scottish Apprenticeship Awards in the Modern Apprentice of the Year SCQF Level 5 category, sponsored by College Development Network.
She explained: "I couldn't talk more highly about the benefits of working, earning and learning you get with an apprenticeship. As well as the experience and work skills, it's given me the benefit of being able to start saving for my future home
"Apprenticeships are best way to help young people start saving for future goals and get places. It puts you in a good place to pursue your career dreams.
"I feel really happy proud of myself to be a finalist at the Scottish Apprenticeship Awards. I'm pleased with what I've achieved in under a year – completing an apprenticeship and getting a new job. All my hard work in the business and administration apprenticeship has paid off."
Solution for skills challenges
Emily is now part of the finance team at the University of Stirling, as a Modern Apprentice.
Jennifer Paton, Head of HR Partnering at the University of Stirling, said: "At the University of Stirling we're proud to be able to offer a range of funded apprenticeships, including Graduate and Modern Apprenticeships.
"Apprenticeships provide an excellent solution to the skills challenges faced by many employers, equipping businesses for the future, and nurturing the skills of Scotland's workforce through an exciting range of study programmes."
Claire Maguire, Operations Team Leader at the University of Stirling Finance Office, which welcomed three modern apprentices in December 2021, said: "Emily is one of our first apprentices in the University's Finance Office and she has fitted very well into our large, busy team.
"We are proud to be funding her AAT Accountancy qualification, which is a strong complement to her work, and we are able to help her experience of a variety of roles within our office, as well as provide her with scope to progress."
Flexible learning provision
Jan Mulrooney of learning provider GP Strategies supported Emily on her Business and Administration Modern Apprenticeship. Jan said: "We pride ourselves on our flexible approach to support for both our employers and candidates. From the first stages of initial assessment through to completion we strive to ensure that the candidate and employer get the most from their experience.
"With DD Group we have grown our relationship over the last few years and aid them every step of the way from recruitment, through to the candidate placement and entry onto their apprenticeship programme.
"Emily was an exceptional candidate, she took pride in what she was doing, was incredibly diligent and that was demonstrated through the work she provided for her Business & Administration qualification.
"Emily has developed both personally and professionally during the time of her apprenticeship, this is shown through her ability to communicate with all areas of the business."
Scottish Apprenticeship Awards
The winner of the Modern Apprentice Level 5 category sponsored by College Development Network will be revealed at the Scottish Apprenticeship Awards, which is organised by Skills Development Scotland and set to take place virtually during Scottish Apprenticeship Week from 7-11 March. Find out more about the award finalists and the event by visiting apprenticeships.scot