Compass Scotland supporting apprentices on the road from COP26 to net zero
COP26 provided Compass Scotland with the perfect platform to showcase its commitment to apprenticeship opportunities as well as its own roadmap to net zero.
Compass Scotland was established in November 2020. Its parent company, Compass Group UK & Ireland, the UK's leading foodservice provider, had already been an apprentice employer in Scotland for two years.
Since launch, Compass Scotland has employed 62 apprentices, while currently it has 12 Foundation Apprentices, 58 Modern Apprentices and four Graduate Apprentices, some of whom enjoyed exposure to COP26 thanks to Compass Scotland providing catering and cleaning support to arguably the most significant global event of 2021. These roles ranged from chefs supporting both the hospitality and retail offers, and hospitality assistants serving VIP guests, to team leader roles supporting the many retail outlets at the venue.
Apprentices at heart of change
Compass Scotland Managing Director David Hay said: "Our people worked unbelievably hard to deliver during COP26, with our culinary director Graham Singer leading from the front very closely alongside suppliers. With 125,000 menu items served during the conference, we look back with a real legacy of learnings – including creating reduced carbon menus - with a focus on local and seasonal produce wherever possible, alongside a predominantly plant forward offer.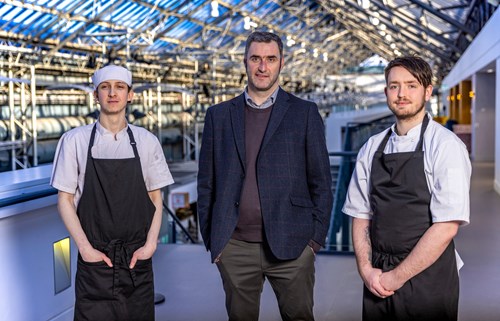 Apprentices key to net zero target
"That experience helped reinforce all of our own net zero ambitions here at Compass Scotland, alongside the UK & Ireland business. We are committed to reaching net zero greenhouse gas emissions across our own operations and value chain by 2030."
The company sees apprentices as key to reaching that milestone. Compass is equipping its foundation apprentices with the additional skills and knowledge to support net zero with dedicated workshops.
David said: "The workshops for apprentices cover background to global warming, climate change and net zero; balancing nutrition with sustainability in meal creation; procurement of top ingredients; kitchen management for low impact; and managing and reducing food waste. This has already launched and is being rolled out within our SCQF Level 4 Foundation Apprenticeships."
In recognition of its work within apprenticeships in tackling climate change, Compass Scotland has been shortlisted in the Scottish Apprenticeship Awards Net Zero Apprentice Employer of the Year category sponsored by South of Scotland Enterprise.
Inspiring next generation
When Compass Scotland was launched, it committed to the creation of 100 new Modern Apprenticeship opportunities in its first year with structured career pathways offering opportunities for all roles and ages across all business sectors within Compass Scotland.
David, whose own pathway is from waiter to managing director, said: "Our apprenticeships are inspiring the next generation of hospitality talent and elevating the structured career development on offer to our fantastic team of people.
"There are more than 40 apprenticeship roles available, from commis chef to chef de partie, and from events assistant to cleaning and support services.
"Apprentices are key members of our team and we are committed to delivering many excellent learning and development opportunities through our apprenticeship programme."
Over 12,000 employers support Scottish Apprenticeships, which are work-based learning opportunities or jobs with industry-recognised qualifications. Designed with employers for employers, Scottish Apprenticeships are demand-led and responsive to regional skills needs.
David concluded: "Implementing the necessary changes to meet our net zero targets requires the cooperation of every single person in our business.
"By educating apprentices on best practices from day one, we ensure that we are introducing people to the business who are fully up to speed on the reasoning behind these practices, and how to implement them, which in turn encourages further collaboration and buy-in from the wider team."
Scottish Apprenticeship Awards
The winner of the Supporting Net Zero Apprentice Employer of the Year category sponsored by South of Scotland Enterprise will be revealed at the Scottish Apprenticeship Awards, which is organised by Skills Development Scotland and set to take place during Scottish Apprenticeship Week from 7-11 March. Find out more about the award finalists and the event by visiting apprenticeships.scot