Apprenticeship gave Sarah chance to put down roots in Shetland
Thanks to a Modern Apprenticeship Sarah Sandison has been able to fulfil her dream of staying in her home of Shetland to work, learn and earn.
When Sarah, now 26, left school she didn't want to leave Shetland to study. After joining Bon Accord Accountancy Limited in Lerwick she decided an apprenticeship was the perfect route for her to gain qualifications and practical experience.
Relate learning to work
Sarah said: "Doing a Modern Apprenticeship has meant I can remain in Shetland while getting qualifications, which is ideal for me.
"During my apprenticeship, I've grown in confidence, including when it comes to sitting exams. And I can relate a lot of my Modern Apprenticeship course content to what I'm doing in my day-to-day job."
Sarah is currently doing a Modern Apprenticeship Level 5 in Accounting. Despite the challenges of lockdown she has progressed well, moving up from foundation to intermediate level and is on track to reach the professional level.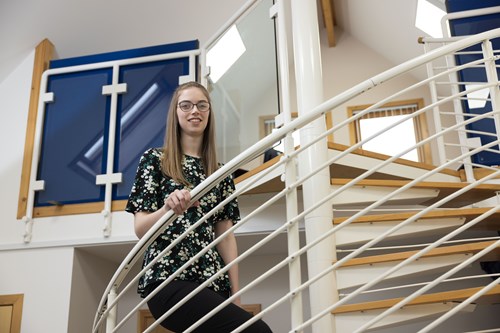 The tenacious apprentice is also finding the time to build her own house and plan her wedding.
Modern Apprenticeships are jobs open to anyone aged 16 and over who want to work, learn and earn. Apprentices spend most of their time learning in the workplace while being supported by a local college or specialist training provider to gain an industry recognised qualification.
Progression plans
At Bon Accord Accountancy Limited Sarah works primarily in the wages department, as well as carrying out some book-keeping.
Sarah wouldn't hesitate in recommending apprenticeships to others. She said: "I'd recommend apprenticeships to others. It's a good thing being able to learn, earn and gain job experience during my Modern Apprenticeship, while staying in Shetland."
She plans to complete all three levels of her Modern Apprenticeship and then consider going into further studies in accountancy.
Sarah's hard work led to her winning the Modern Apprentice of the Year SCQF Level 5 category at the Scottish Apprenticeship Awards, sponsored by College Development Network.
She said before the awards: "It feels like quite an achievement to be a finalist in the Modern Apprentice category."
Keeping local talent
Allan Jamieson is one of the directors of Bon Accord Accountancy Limited, which has 13 employees and one Modern Apprentice within the Shetland office. He said: "A lot of people prefer to work on the islands where they've been born and brought up. Apprenticeships fit well in that respect as they can be done through the local college in Shetland."
Working towards an apprenticeship is allowing Sarah to progress gradually in accountancy and gain real-life skills.
Allan said: "A Modern Apprenticeship is a good approach as it lets people work and get invaluable practical knowledge. Apprenticeships are advantageous for us as it can be difficult to find and retain skilled staff in Shetland in the way that firms in or close to big cities can."
Allan added: "We've seen a great development in Sarah's skills during her Modern Apprenticeship and she's been very adept at working with us while studying. She's a very conscientious person."
Positive work ethic
Janice Leask, Vocational Training Co-ordinator with Shetland UHI/Train Shetland, the learning provider, said: "Sarah has a great work ethic and is exemplary with her studies during her Modern Apprenticeship. When exam centres had to close because of Covid, she just kept studying and did the exams when they re-opened.
"If you go away from Shetland full-time to college or university it costs a lot of money by the time you pay for your travel and accommodation. A big advantage with apprenticeships is that you're earning and learning and come out with qualifications."
Scottish Apprenticeship Awards
For a full list of winners at the Scottish Apprenticeship Awards, visit apprenticeships.scot