Apprentice Viktoryia engineers innovative green solutions for her business
Aircraft engineer Viktoryia Parkhamovich is flying high in her apprenticeship in her efforts to fight climate change.
Modern Apprentice Viktoryia was raised in Cyprus before moving to Scotland and so brings a unique global perspective to GE Caledonian in Prestwick on its drive to reaching net zero.
Fuelled by apprenticeship
While on furlough in 2021, the 22-year-old got involved in the Fuel Change Challenge competition, a low carbon innovation challenge for apprentices across Scotland.
Viktoryia explained: "I was our team's leader in the Fuel Change Challenge and we did really well and were one of the finalists.
"Our idea that was showcased was to plant seaweed around the coast of Scotland. It takes 20 times more CO2 out of the air than a tree and has lots of uses, for example as a fertiliser."
GE Caledonian Apprentice Co-ordinator Aidan McIntyre said: "Viktoryia became involved with Fuel Change and became an activist and one of the founding ambassadors for the movement. She formed part of a six-person team who spoke to young people about the challenges of climate change.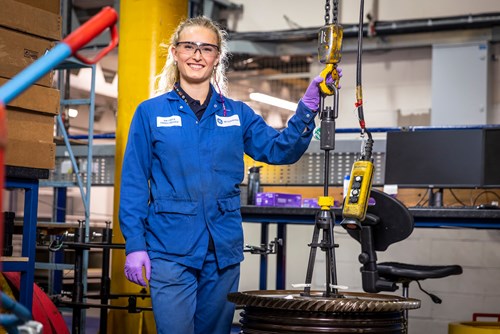 Passion to tackle climate change
"As a spin-off to the Fuel Change Challenge, she is also involved in an aircraft decommissioning project which is targeted at recycling the decommissioned aircraft parts and repurposing them – a true environmentally friendly project.
"All this work by Viktoryia has demonstrated a true interest and extra-curricular passion in climate change which has happened alongside her apprenticeship."
Viktoryia started her Modern Apprenticeship in Engineering in August 2018.
Enjoying practical subjects such as metalwork and woodwork at school, she went to Ayrshire College to study those areas more in sixth year.
Life changing
Viktoryia said: "I got on to an HNC in Aircraft Engineering and did work experience at British Airways and realised aviation was for me.
"I spoke to other students and lecturers and found out about apprenticeships. I had no idea until then you could study and work and get paid at the same time.
"I decided to apply for the Modern Apprenticeship in Engineering at GE Caledonian and it's the best thing that's ever happened to me. Apprenticeships are definitely the way forward.
"Through an apprenticeship I get to work hands on, being taught by some of the most experienced people in the industry."
Modern Apprenticeships are jobs open to anyone aged 16 and over who want to work, learn and earn. Apprentices spend most of their time learning in the workplace while being supported by a local college or specialist training provider to gain an industry recognised qualification.
Fresh ideas
Aidan said: "Viktoryia has overcome several challenges to get where she is today. She has a unique background and brings fresh views to the business.
"She's close to finishing her Modern Apprenticeship in Engineering, while encouraging her colleagues to make smarter, greener choices both inside and outside work."
Changing culture at work
Viktoryia said: "I decided I was going to make climate change part of my conversation all the time with friends and colleagues. It's vital for people to know that we have to change things.
"We want to change the culture at work and I've been encouraging colleagues to do simple things like choosing re-usable cups and having more vegetation options in the canteen."
Aidan said: "Throughout her Modern Apprenticeship, Viktoryia has become involved in external efforts to fight climate change and contribute towards our carbon neutral and net zero ambitions.
"Part of this has been to raise awareness within the organisation and spread the message to her fellow apprentices and colleagues.
"As part of an in-house initiative Viktoryia has teamed up with other apprentices to introduce new practices at work to make it a more climate supportive and climate aware environment."
Viktoryia's efforts have been widely recognised as the talented apprentice won the Supporting Net Zero Apprentice category sponsored by Ocean Winds at this year's Scottish Apprenticeship Awards, alongside colleague Ryan Matthews.
Scottish Apprenticeship Awards
View the full list of Scottish Apprenticeship Awards winners on apprenticeships.scot.