Network Rail Scotland: Full steam ahead for Scottish Apprenticeships
Network Rail Scotland is making tracks to develop its innovative apprenticeship programme.
A new apprenticeship training base in East Kilbride has attracted Scottish talent and enabled the firm to increase its intake of apprentices. Previously, new recruits had to travel to England to complete elements of their apprenticeship.
Rachel Hollinger, Early Career Manager at Network Rail, explains: "Our original training centre is in Coventry.
In previous years, apprentices have worked and lived there for six months before coming back to Scotland for their on-the-job training.
"We know that moving that far away can be a big step for young people, so it was important to create a Scottish base to make it more accessible."
The company also met the challenges of the pandemic head-on with virtual learning, enabling them to expand opportunities across Foundation, Modern and Graduate Apprenticeship opportunities. 
Network Rail works in partnership with learning providers Glasgow Kelvin College, East Kilbride Group Training Association, Microcom and Glasgow Caledonian University to deliver the apprenticeships.
Rachel said: "Apprentices work on real-life projects. They are given case studies, which they then go away and research, coming back with solutions that help our business."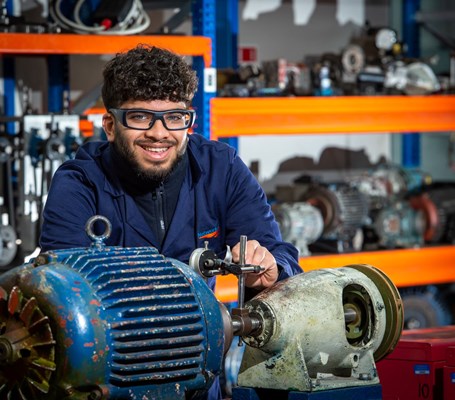 There is a mix of subjects and level of apprenticeships being studied by the apprentices at Network Rail; Civil Engineering Foundation Apprentices, Rail Engineering and Project Management Modern Apprentices and Engineering: Design and Manufacture Graduate Apprentices have formed a supportive community.
Graduate Engineers have also offered to mentor Foundation Apprentices in areas such as report writing and university applications.  
Rachel said: "We want to create a career pathway for our apprentices and have even recognised talent by fast-tracking apprentices from Foundation to Modern Apprenticeships." 
Rachel thinks it is important to recognise that there are many different pathways to success for young people.
She explained: "When I was a teenager, for me the only option was university, but there has been a shift in attitudes since then.
"If I had kids, I would encourage them to do an apprenticeship as they are flexible and prepare you for the world of work." 
This is backed up by the experience of apprentices themselves. Usmaan Ishaq, 21, Rail Engineering Modern Apprentice from Dundee, said: "Apprenticeships are a great way to learn hands-on experience whilst studying. This Network Rail apprenticeship has been amazing. I am learning new skills and gaining new experience to become a qualified engineer." 
Ryan Crolla, 24, from Glasgow, is also a Rail Engineering Modern Apprentice. He said: "There are people in place to help you through your apprenticeship and assist you with getting the best out of yourself. The apprenticeship has given me the opportunity to learn valuable skills and qualifications that I can keep with me for the rest of my life."