Laura's flawless career move sparked by Graduate Apprenticeship
A Graduate Apprenticeship helped Laura Fraser to achieve stunning success in her career after she swapped the world of beauty for business management.
Laura, 37, is using knowledge gained through her on-the-job learning to manage major projects for her employer Forth Valley College - including its move to a new £78million campus in Falkirk.
The former beauty technician from Falkirk said undertaking the Graduate Apprenticeship has grown her professional network and gained her a promotion to Business Transformation Manager.
Laura said: "The Graduate Apprenticeship has changed my life and given me the opportunity to transform my career pathway. It got me a promotion, showed me what I want to focus on and cemented the fact that I want to continue to keep my industry knowledge current."
Laura started working at the college in 2012 as a beauty therapy technician – on one occasion taking students to run a salon at T in the Park where they dealt with 9,000 heads of hair in three days.
She was asked to deliver evening classes but moved to the Corporate Services side of the business where her interest developed around the business, change projects and systems.
A secondment to the Business Transformation Team led to a permanent job, followed by a place on the innovative Leadership Development Programme and then the Graduate Apprenticeship.
Laura said: "Combining work and studying through the apprenticeship was so beneficial as I could see the theory I was learning at university in practical situations at work – these then gave me valuable examples for assignments.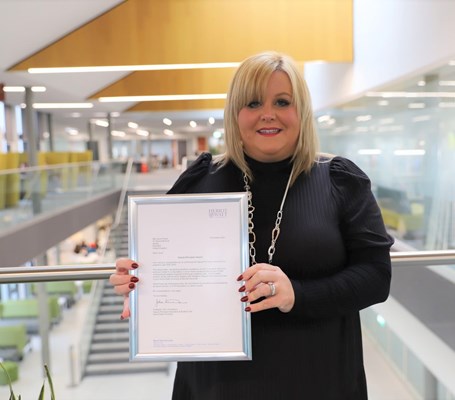 "The benefits of a Graduate Apprenticeship range from confidence-building to helping improve knowledge and bridge skills gaps, and results in a fantastic qualification. You can bring that knowledge back to your organisation and cascade the learning to your colleagues.
"It's invaluable being able to share good practice and networking opportunities while learning and gaining insights from other organisations. I would recommend a Graduate Apprenticeship to anyone interested in professional development."
Graduate Apprenticeships are offered in key occupational growth areas and support individuals in developing the technical and person skills they need to progress.  
Laura graduated earlier this year with a First-Class Honours degree from Heriot-Watt University - collecting a string of top academic awards along the way.
She won two Deputy Principal Awards for academic excellence and the Heriot-Watt Edinburgh Business School prize for the Graduate Apprenticeship Business Management Programme, after scoring the best Grade Point Average in her final year.
James Aston, Head of Business Transformation at the college and Laura's workplace mentor, said: "Laura has a natural gift for managing projects, is good with people, can manage difficult situations and has true leadership potential. All these qualities have been further enhanced from her learning on the Graduate Apprenticeship."
James added: "The Graduate Apprenticeship model was a perfect fit for our organisation. The impact on the business was kept to a minimum and it allowed Laura to apply her learning to her job.
"We would happily employ another Graduate Apprentice in the future. A candidate who successfully completed the programme would have shown dedication, ability and a strong work ethic - qualities that employers seek in any employee."
Forth Valley has 600 staff at state-of the art campuses in Alloa, Falkirk and Stirling. Laura also plays a lead role in delivering the £4million Transition Skills Project - part of the Falkirk Growth Deal delivered by the Scottish and UK Governments.