19 August 2022
Rising number of female forestry apprentices helps grow equality in sector
Apprentices are helping to topple gender stereotypes around working in forestry as women increasingly take up jobs and training in the profession.
Forestry and Land Scotland (FLS) said 11 of its current cohort of 40 apprentices are women, with ten more female workers joining its work-based learning programme in the last three years.
The rise in uptake among women is at odds with perceptions that forestry – vital in tackling climate change, ensuring sustainability and managing the landscape – is only for men.
Improving equality and diversity is also crucial as the industry is crying out for new talent, in common with many other sectors that are turning to apprenticeships to develop the workforce.
FLS Chief Executive, Simon Hodgson, said: "Apprenticeships are an ideal way for many young people to enter the workplace.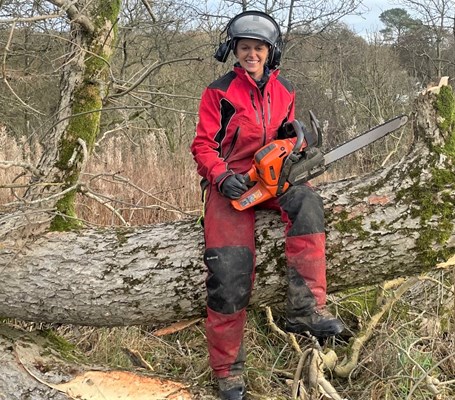 We get a really good balance of male and female apprentices looking to join us, which is great for the organisation and for the long-term prospects for forestry in Scotland
Simon Hodgson
FLS Chief Executive
"It's a way into a career for people who have found that they are more attuned to practical learning as well as for people who have maybe followed an academic path that they are no longer sure they want to follow.
"An apprenticeship gives young people an opportunity to learn and earn, develop their skillset, gain experience and increase their awareness of the huge variety of elements that make up an environmental job such as forestry.  
"It's also great for us because we benefit from gaining their perspectives, enthusiasm and energy while also getting the chance to help those young people channel their talents in the right direction so that they can fully develop their potential. 
"We get a really good balance of male and female apprentices looking to join us, which is great for the organisation and for the long-term prospects for forestry in Scotland."
Among the current staff at FLS is Rachel Orchard, who is doing a Trees and Timber Modern Apprenticeship working from the agency's base in Durris, Aberdeenshire. 
Rachel, 23, said: "Over the course of my apprenticeship I have gained insight into many facets of the forestry industry. Site visits often raise concerns about current challenges, but also spark excitement for new opportunities.  
"I find the work stimulating and take great satisfaction from completing tasks that have a physical impact - such as using a chainsaw to safely fell a tree."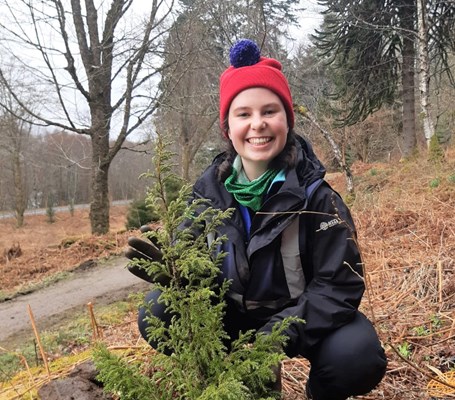 FLS Assistant Delivery Manager, Central Region, Will Huckerby, added: "With forestry more important now than ever, the sector is crying out for new people.
"Whether you start at college, sign up for an apprenticeship or learn your skills on the job, there are some great opportunities for building a career.
"A career in forestry is hugely varied - it could see you working with communities, managing wildlife and helping to save endangered species, making sure visitors get the most out of their forest experience or ensuring that the timber we produce gets to market." 
Complex operations
Rachel's colleagues include expert chainsaw user and Stewardship Supervisor Lesley Reilly, a former apprentice and whose recent jobs included leading a complex, dangerous operation to fell a 25-metre diseased Ash on the site of the former Wilsontown ironworks in Lanarkshire.
Frontline jobs in forestry range from tree planting and forest management to harvesting work. Other roles include business analysis and human resources, geographic mapping, finance and procurement.    
Forestry and Land Scotland offers several apprenticeship opportunities including the Trees and Timber Modern Apprenticeship at SCQF Level 5 and 6. 
Recent research by Skills Development Scotland shows how diversity in recruitment and employing younger apprentices is linked to better productivity growth for the businesses.
Visit apprenticeships.scot to find out more about Modern Apprenticeships and search for vacancies