How schools and businesses can collaborate to create career opportunities
At high schools across Scotland, pupils can choose a Foundation Apprenticeship as a subject, allowing them to develop their skills and actively experience the workplace - whilst gaining a qualification.
Recent evidence, noted in the 'Exploring Scotland's Career Ecosystem' report, highlights the importance of forms of experiential career learning, such as Foundation Apprenticeships, where young people learn by seeing and doing and have the opportunity to directly engage with employers and other key stakeholders. 
For St Modan's High School in Stirling, offering Foundation Apprenticeships has opened clear pathways for pupils who can choose from frameworks including 'Engineering', 'Creative and Digital Media', 'Civil Engineering' and 'Social Services Children and Young People'.
Work-based learning opportunities, including Foundation Apprenticeships, are an important part of the career system in Scotland which help broaden young peoples career options when they leave school.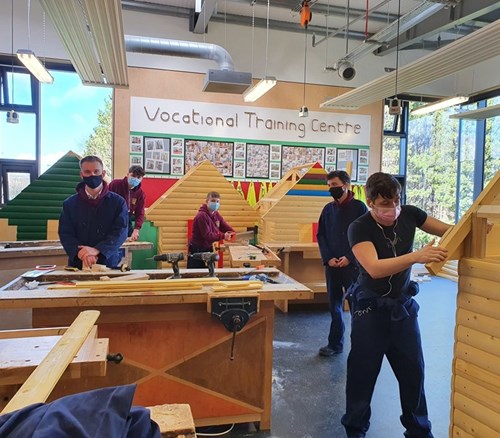 Taken over one or two years by senior phase school pupils as a subject alongside Nationals and Highers, completion of a Foundation Apprenticeship at SCQF Level 6 leads to an equivalent qualification to a Scottish Higher. Recognised by all Scottish universities and colleges, Foundation Apprenticeships support progression on to a job, such as a Modern or Graduate Apprenticeship, or on to further and higher education. 
The latest research conducted by Skills Development Scotland, published June 2021, shows Foundation Apprentices at SCQF Level 6 have reported developing a range of meta-skills employers look for. 
With 95% reporting improved communication skills and 87% reporting improved problem-solving skills, these meta-skills will enable the apprentices to adapt in ever-changing work environments in their future careers.
The self-esteem and confidence of participating pupils has risen significantly. They can articulate the meta skills they have gained very well, which has enabled them to secure interviews and successfully progress on to a job or further learning.
Caradh Pert
St Modan's High School Depute Head
However, when the SCQF level six qualification may not be right for the pupil at that time, there are other work-based learning options available for the pupils at St Modan's.
The high school created a Vocational Training Centre that aims to provide better parity of esteem for pupils. Within this work, the school embarked on a pilot with Historic Environment Scotland that tasked pupils with a construction project and gave them the chance to get an authentic experience of work.
St Modan's High School Depute Head Caradh Pert said: "The pilot was transformational for the pupils. All of them progressed on to positive destinations, including university or apprenticeships and most continued to pursue their careers within the construction sector."
Following this successful pilot, St Modan's jumped at the chance to introduce a work-based learning qualification at SCQF Level 4 and 5, as they had witnessed the benefits in co-creating with employers to deliver these effective career services for pupils.
The school now offers Construction Foundation Apprenticeships at both levels, working with Forth Valley College to provide 18 fourth year pupils with a qualification at Level 4 and delivering the Level 5 Foundation Apprenticeship in-house to 20 senior phase pupils.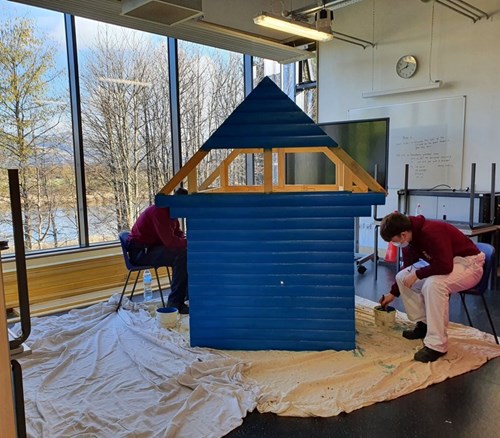 Pupils undertaking Level 5 Construction have built playhouses for local primary schools, treating them as clients to gather briefs and working in partnership with them throughout the whole process from concept to completion.
The Depute Head commented on the benefits Foundation Apprenticeships have brought for pupils: "The self-esteem and confidence of participating pupils has risen significantly. They can articulate the meta skills they have gained very well, which has enabled them to secure interviews and successfully progress on to a job or further learning."
He added: "Foundation Apprenticeships have helped St. Modan's bring about the cultural change that we envisaged from the creation of our Vocational Training Centre."